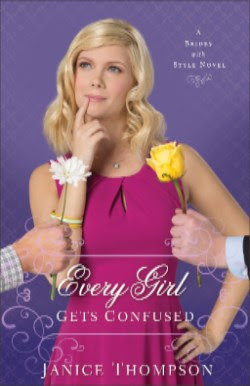 It's Novel Nerd!
OK so I confess, the real reason I chose to review this book is because the cover is purple! Not really. So I started reading this book and realized that I had read books by her before. Janice Thompson has also written the "Weddings by Bella" and "Weddings by Design" . It looks like she likes this genre as this book is part of the "Brides with Style" series. I believe this book is the second in the series, and although I did not read the first, I may just go back because I liked it.
Katie works at a bridal shop and is dating the shop owners son, Brady, who is also a Maverick's basketball player. Or he was, but he has been benched due to an injury. Katie is trying to balance love, work, and tough decisions in her life while helping Brady through his own life changing ones. The book is filled with lots of lively characters and an easy to read story. Plus there is also an element about Doris Day (I won't spoil it, but it's cute and makes me want to go watch more of her movies). Definitely one you don't have to think about!
Every Girl Gets Confused is available on AMAZON in paperback, kindle, and hardcover formats. Also available on Google Play.
Release date: Oct 20
Press Summary:
How can she choose between the love she thought she lost and the love she stumbled upon in the aftermath?
Katie Fisher and Brady James may be a match made in heaven, but that doesn't seem to guarantee them a happily ever after accompanied by angelic choirs. Katie's almost-fiancé Casey is back in Fairfield, ready to rekindle their relationship. And there's nothing Katie's parents want more than for their small-town girl to leave Dallas and come home for good.
But can she really leave Brady behind? And will she ever be able to wear that gorgeous wedding dress she won?
Disclaimer: I received this book in exchange for an honest and unbiased review.
Until next time,