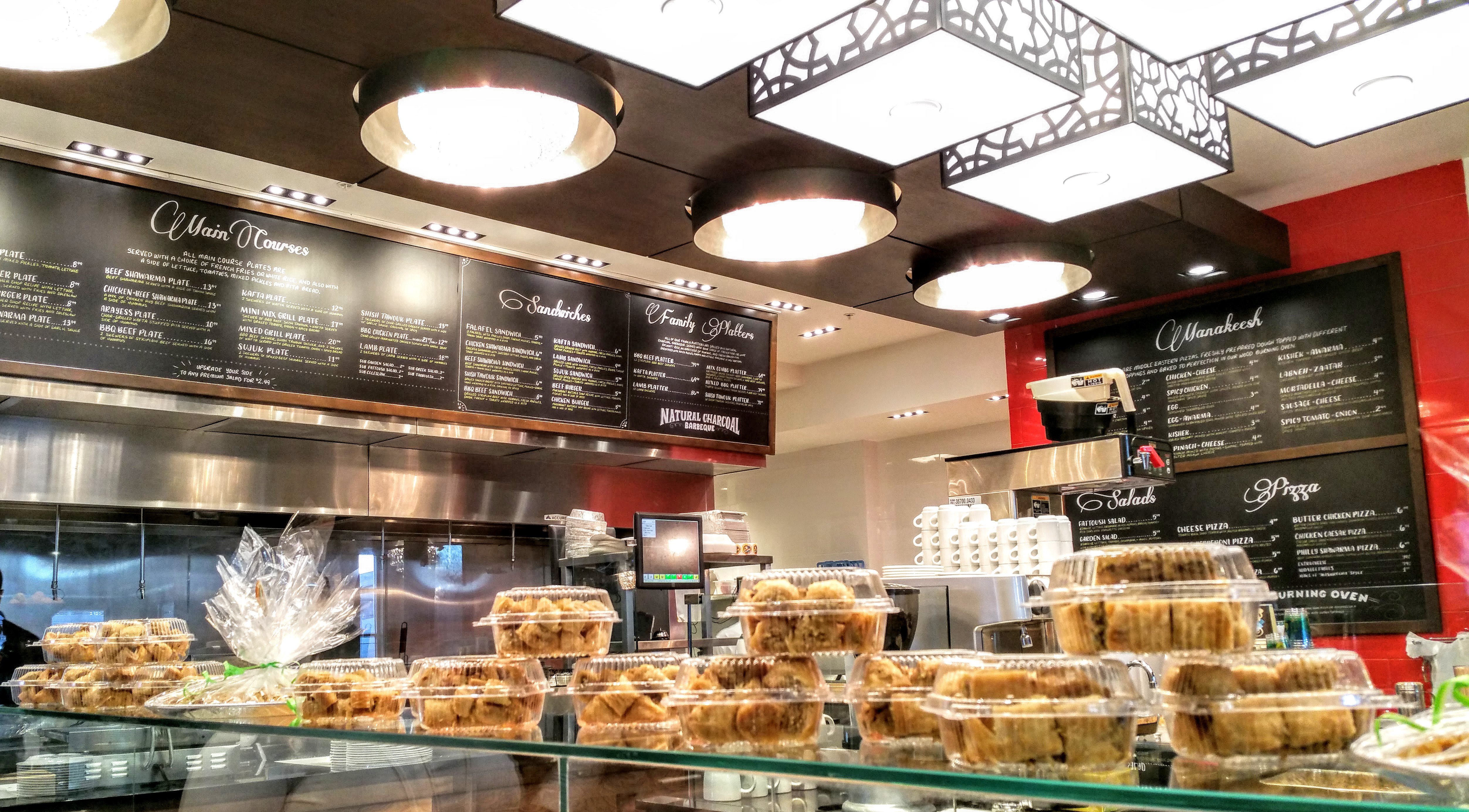 It's Travel Thursday!
Recently, me and the side geeks had the opportunity to experience a new kind of food genre: Lebanese. It is similar to Greek or Mediterranean food, but has it's own distinct dishes which define it.
Paramount Fine Foods is located at the Orlando Eye complex on I-drive across from the Shack Shake. (If you missed my review on that you can find it HERE). Parking is directly adjacent in the parking garage and is free.
Seating is cozy as you can see above. And to provide more of a family atmosphere, there is even an indoor playground!
Ordering is a little different, as you approach the counter and pay. Then the server will bring it to your table. The dishes are large and suitable for sharing. Also, check out the delicious looking desserts!
Here is a selection of popular dishes from the restaurant. My personal favorite is the hummus which is served with made from scratch pita bread which is served table side piping hot!
A sampling of Hummus and Moutabbal, which is grilled eggplant and tahini.
Don't mind the facial expressions. We are thoroughly enjoying it! Another favorite of everyone is the falafel, fried fresh and topped with sesame seeds. I highly recommend this with the tahini sauce. I could not get enough by itself, and cannot wait to go back and try in a sandwich.
For our evening, we were able to sample a few other items from their menu as well. Here is a view of Marshall's plate filled with falafel, basmatic rice, chicken, and the tahini sauce. Drinks were also a variety of fruit juices. The one below is strawberry.
One of the most interesting things we tried was the Manakeesh which is like a Mediterranean pizza. Honestly, it is one of the best things I have eaten in a long time and is very reasonably priced!
We were able to try 3 different Manakeesh. The Zataar is a paste (similar to pesto) of sesame and thyme blended with olive oil. It was very refreshing. The other 2 are made with an Accawi cheese. Let me tell you, the white one is divine. I do not know how that cheese is made, but it has so much flavor!
Overall, we are really excited to go back and try this again. The sandwiches, pizzas, and salads are reasonably priced, and on Saturdays they have brunch that is around $15 per person.
While you are there, make sure to check out the Orlando Eye pavilion! This is a must have spot for any vacation, and it won't break the bank either.
Thanks for joining us on this new adventure, and until next time…
Disclaimer: Products or services received in post were given in exchange for review.