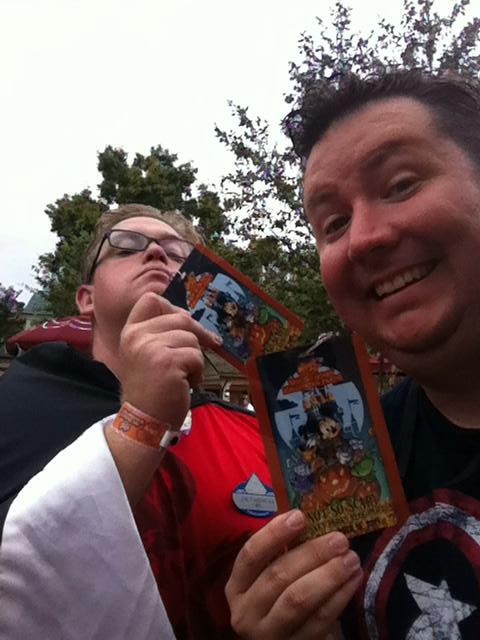 It's Travel Thursday with some more Epic Travel.
Marshall recently had the opportunity to go to Mickey's Not So Scary Halloween Party with Chris. Here is his take on one of the most popular halloween events in Orlando.
I recently had an opportunity, alongside MovieGuy84, to check out Mickey's Not-So-Scary Halloween Party at Disney's Magic Kingdom. This is not the first time I had been to the Party, but it was the first time I had been there on an invite. Okay, technically as a +1 on an invite. Thank you, MovieGuy. If you want me to sum up the rest of what I'm going to say, you should definitely go, and a lot an entire evening for it up to

midnight

. You'll be tired the next morning, but it'll be good fun.
Each year, they kick off the night with a show. In previous years, most were disappointed with the production and direction of the shows. I'm pleased to say that Disney has addressed that. This year features the Sanderson Sisters of Hocus Pocus fame, their long-overdue-induction into the society of Disney Villians, and a lot of elbow rubbing with other villainous headliners. The sorcerous sisters have come back from their slumber and are attempting to brew their Hocus Pocus Party Potion. They need several ingredients that are all supplied by various ne'er-do-wells including Dr. Fusilier, Oogy Boogy, and Maleficent. It's all very campy, and yes, that's the point. Personally, I felt that Oogy Boogy's part was a bit weak as far as story line, but this is about fun, not high literature. The Sanderson Sisters were perfectly decked out. They looked exactly like their movie counterparts, and moved and sang just right. Disney really did them justice here, and the show really made the night for me.
After that, the Headless Horseman of Sleepy Hallow fame came riding through to kick off the Boo-To-You parade. If you haven't seen this before, it takes various attractions from around the Magic Kingdom on parade, blending their theme songs with the parade music in an earworm that will please and annoy you for two and a half days after. A fun highlight is the zombie undertaker dancers for the Haunted Mansion. As they dance, they drag their shovels on the ground, throwing up a shower of sparks. So fun. If I'm not mistaken, they've added Wreck-It Ralph characters near the end of the parade, close to the Goofy Float. I liked Vanellope running around and saying hi to everyone.
Now, you can't have a fun Halloween without Trick-Or-Treating, and Disney supplies. Many of the attractions are shut down and become candy zones where you can load up. Interestingly, Pirates of the Carribean was also shut down. Possibly because George doesn't want to work nights. My recommendation is to wait until during or after the night's fireworks display to do your candy runs, as the lines will be shorter. We managed to hit all the stations, see the show, parade, and fireworks, and ride three rides all during the event without breaking a sweat. While you're about, you should check out the Haunted Mansion, as all the staff have revealed their undead selves (via great makeup jobs) in the moonlight, and one of the ghostly ladies will be out for a meet-and-greet. Great photo ops are to be had all over the park, as just about every character is hanging out to meet you. Now, I mentioned the fireworks display. Really, I wasn't much of a fan of it. Having seen it before, and having so much of it de-synced was a bit of a turn off. I hope they'll update this in future years.
All in all, this was a great event, and I hope to go again one year. If you have the opportunity, kids or no, you should definitely go. It isn't a scary Halloween. It's a fun, exuberant romp through all the festivities you remember from your childhood. And your inner child will thank you.
Do you like guest posts? Let me know in the comments!
Until Next time,