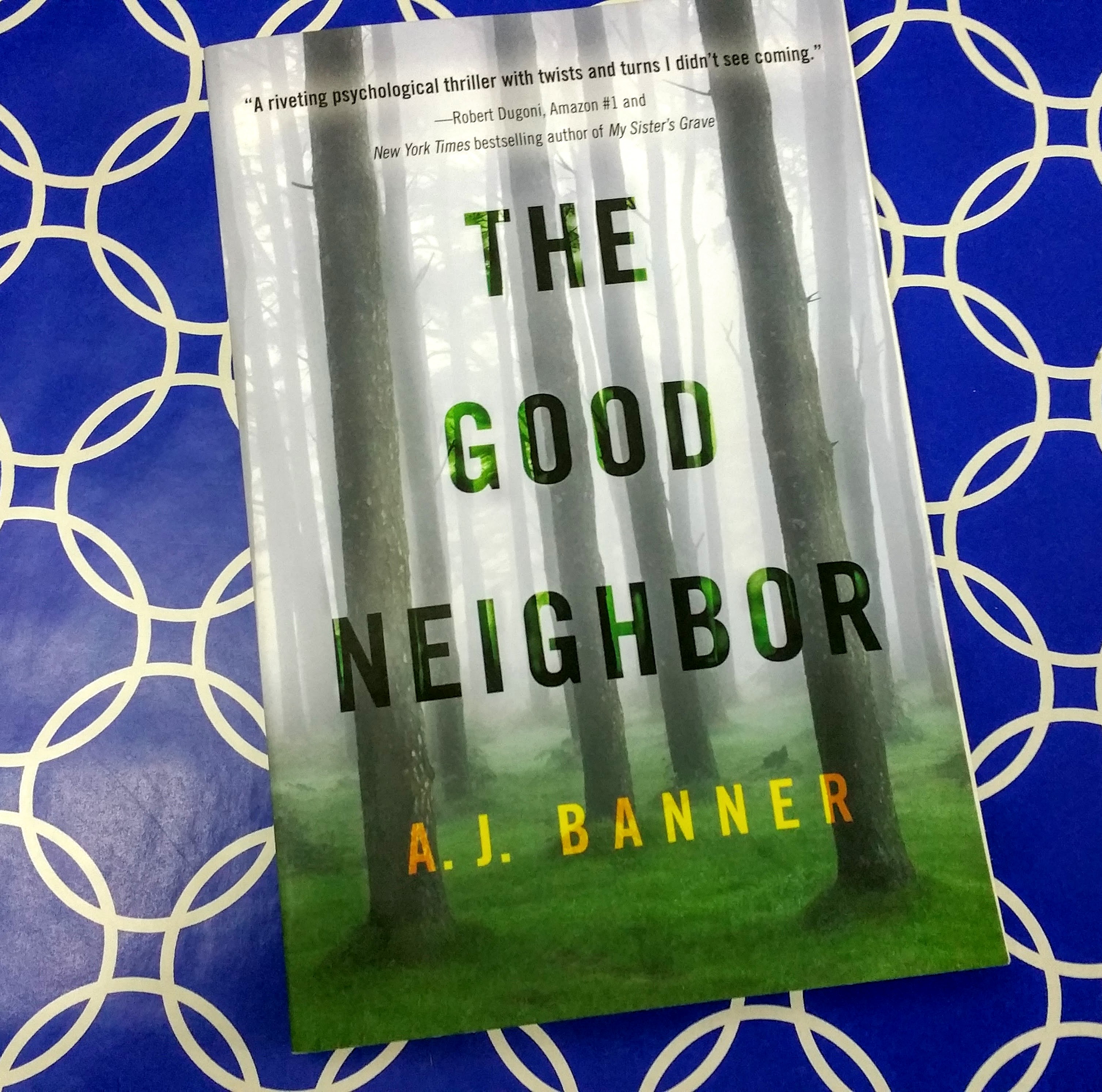 It's Novel Nerd! Plus a Giveaway! Read to the end to find out how to get your own copy! Plus look for a new Book Review on Mondays.
This is the second book I am reading for BookSparks U. If you missed the first one, Big Law by Lucy Cameron, make sure you check it out!
The Good Neighbor by A.J. Banner is classified under the suspense thriller genre. I reminded me a lot of The Girl on the Train by Paula Hawkins, but shorter. If you are a fan of the type of books that keep you guessing, this will be up your alley.
Sarah lives a perfect life as a small town writer in beautiful Washington, and is still a newlywed to Dr. Johnny. However, one night a fire reveals the dangers of living in a small town.
Like I said, this book was a really fast read both in length and how it keeps you reading. My complaint is that the characters were not written as complex and deep enough as they could have been. While I did kind of root for the heroine, I did not fall in love with the protanganist enough to want to read a sequel. However, if you are looking for a book to read for enjoyment, this is an excellent read.
The Good Neighbor is available on AMAZON in paperbakc, audible, MP3 CD, and ebook formats. Not available on Google Play at this time.
Release date: September 1
Press Summary:
Named by Harper's Bazaar as a book that could be the next Gone Girl.
From a phenomenal new voice in suspense fiction comes a book that will forever change the way you look at the people closest to you…
Shadow Cove, Washington, is the kind of town everyone dreams about—quaint streets, lush forests, good neighbors. That's what Sarah thinks as she settles into life with her new husband, Dr. Johnny McDonald. But all too soon she discovers an undercurrent of deception. And one October evening when Johnny is away, sudden tragedy destroys Sarah's happiness.
Dazed and stricken with grief, she and Johnny begin to rebuild their shattered lives. As she picks up the pieces of her broken home, Sarah discovers a shocking secret that forces her to doubt everything she thought was true—about her neighbors, her friends, and even her marriage. With each stunning revelation, Sarah must ask herself, Can we ever really know the ones we love?
***Giveaway*** LANEY LOOT
For a chance to win your own copy of the Good Neighbor, enter below until November 16th!
The Good Neighbor Review Giveaway
Until Next time,