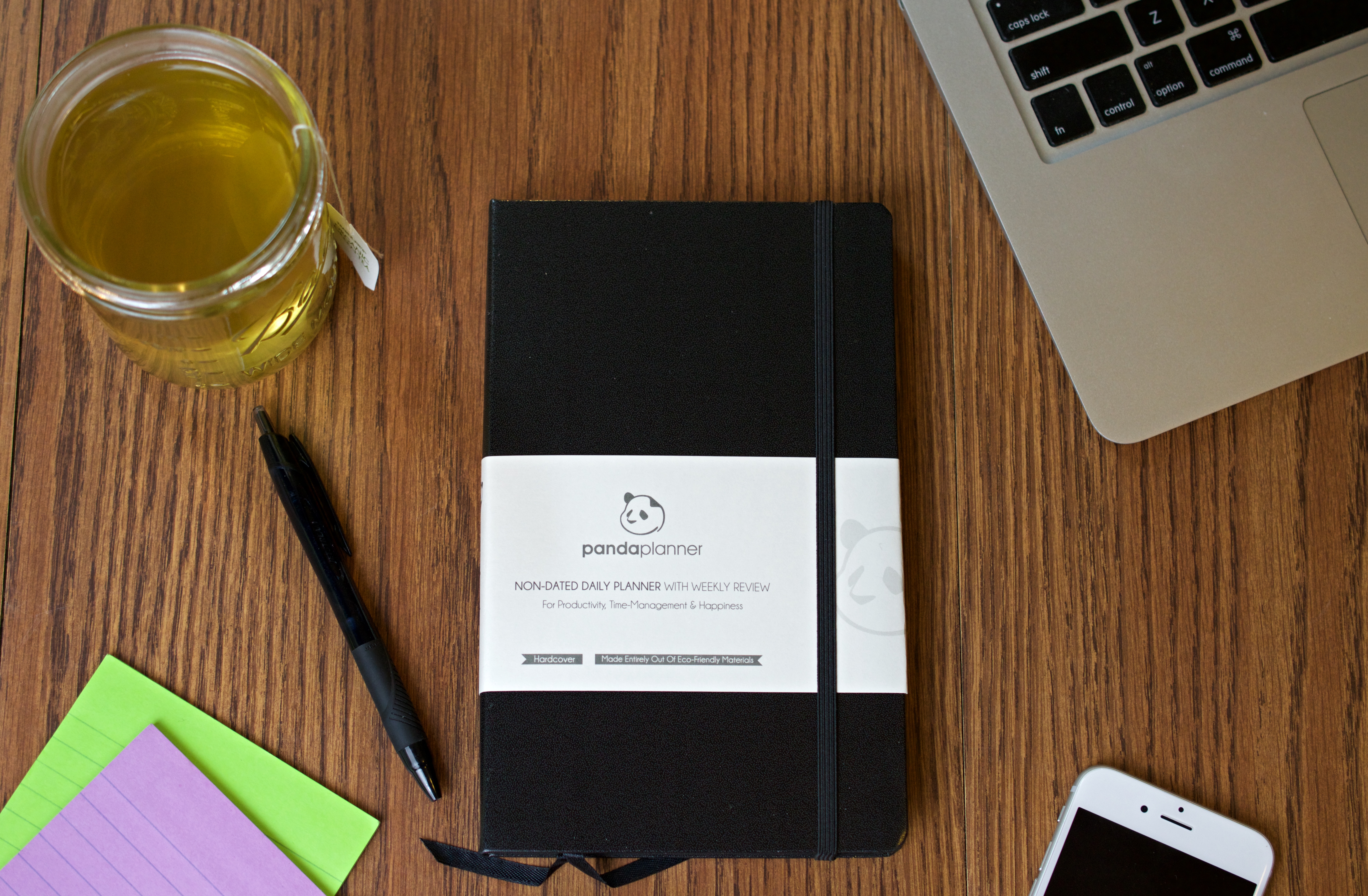 I have been using a variety of Planners: Kikki K, Mambi, Erin Condren. Each has a specific purpose and organization method. Panda Planner is a different approach. First off, it comes with a web address so you can sign up to receive videos on productivity. This is good if you are not sure the best way to use the planner.
The planner itself is divided into 3 sections, Monthly, Weekly, and Daily. The monthly section has space for each day in the month, a side section for notes, and a section at the bottom. In that section, you can plan you goals and how you will succeed. There is also a space for reviewing how you succeeded at your goals.There is also a line at the top to put your habit and focus for the month. There are only enough for 6 months of information so to me this is not as good because you will have to purchase another one of these in 6 months if you like to use it.
The Weekly section has a variety of different sections. You can use these to record Bog Wins, How to Improve, Things I will do to Make this week great, I'm looking forward to, Habits I am focusing on developing, Education/ Mastery, Affirmation, top goals this week, and 4 big spaces for listing all your projects. This really gets into the depth of planning specifically. There are enough for 20 weeks, so you won't have enough weekly spots to fill what you would get to match the 6 months in the previous section. To me this is definitely a drawback as there should be 4 more weeks.
Lastly is the daily section. Here you can track what you are grateful for, looking to why it will be great, affirmations, focus, exercise, priorities, schedule, tasks, notes, and a space where you can review the days wins and improvements. I like how detailed this section is, but I am not sure I could use every section everyday. From the amount of pages, there seems to be enough daily entries for 2 and a half months. For me, this is not enough because in order to get into a habit, you should do it for 28 days. However, this is good for having the ability to do it a few times a week if you want it for that.
In order to keep track of the sections, there are ribbons to place where your leave off. I think this is a great idea instead of tabs! The leather book is held closed with an elastic band and it is the perfect size to fit in your purse or bag.
Overall, I really like the concept of this planner, It has options for everything you may want to do, and keep track of. I like the positivity of it as well. I realize that this planner would have to be huge in order to make every section have enough for 6 months, but that might be a good thing. It seems like almost a mishap that there are not enough pages in it.
You can purchase this planner on AMAZON!
But stayed tuned to my YOUTUBE channel for a chance to receive this planner for free!
From the Company:
The first planner based on scientific studies that are proven to increase happiness, producitivty and time management.
The Panda Planner was created by a once-struggling entrepreneur who was riddled by Traumatic Brain Injruy (TBI) and Lyme Disease. 
The unique design of the planner allows the user to focus on what's important and build positive habits in their life, fast.
I received this product in exchange for an honest and unbiased review.
Until Next Time,